As a first-time Marketplace delegate, you are about to engage in an educational and professionally rewarding virtual experience.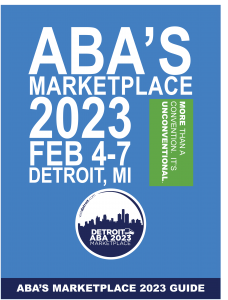 Top STAR Delegate Tips for Marketplace OnDemand
CONNECT with your mentor. After registering, you will be contacted by an ABA member from the Marketplace Orientation Committee who will serve as your mentor. They are a valuable resource prior to and during ABA's Marketplace.
ATTEND all Marketplace OnDemand events. Make the most of your investment by engaging in all aspects of the virtual platform.
NETWORK to build relationships with fellow ABA members. Check out the Networking Floor Lounge. It is a great location to meet in small groups.
REVIEW your Marketplace online profile in the Research Databases. Update your profile through the links on your Marketplace Passport.
BE PROMPT to your virtual meetings (if applicable) and respectful of both the buyer's time, as well as the seller who is next in line for appointments. Never skip a scheduled appointment.
DEVELOP your professional skills by attending an education session. This is also a great way to connect with other members and learn more about the industry.
Update Your Registration
Your Marketplace Passport is a record of all of your individualized registration information. Make certain that your information is up-to-date and that you're marked as a first-time delegate.
View Video Tutorials
Prepare a Profile Sheet
Profile sheets are great resources to send a Buyer.
What Do Tour Operators Need from Suppliers to Conduct GREAT Business
View/Listen on Demand to what resources tour operators need and how you can stand out from your competitors at Marketplace or throughout the year.
Review Insider Information
Many industries have their own language, which can make it difficult for the novice to communicate, let alone understand. If you're in a sales position, efficient communication is the key to your success. Stars need to learn and understand the key terms and sensitivities in your business world, and you'll increase your performance potential.