Ready to maximize your participation? ABA's Marketplace has two programs designed to showcase your organization as you show Buyers that you are ready for their business.
SPONSORSHIP SALES
ABA's Marketplace sponsorship program secures your onsite presence in front of key decision makers who determine where North America's 32,000 motorcoaches and tens of millions of group tours stop for meals, lodging, shopping, and entertainment.
Opportunities and Benefits
Click to View Detailed Sponsorship Opportunities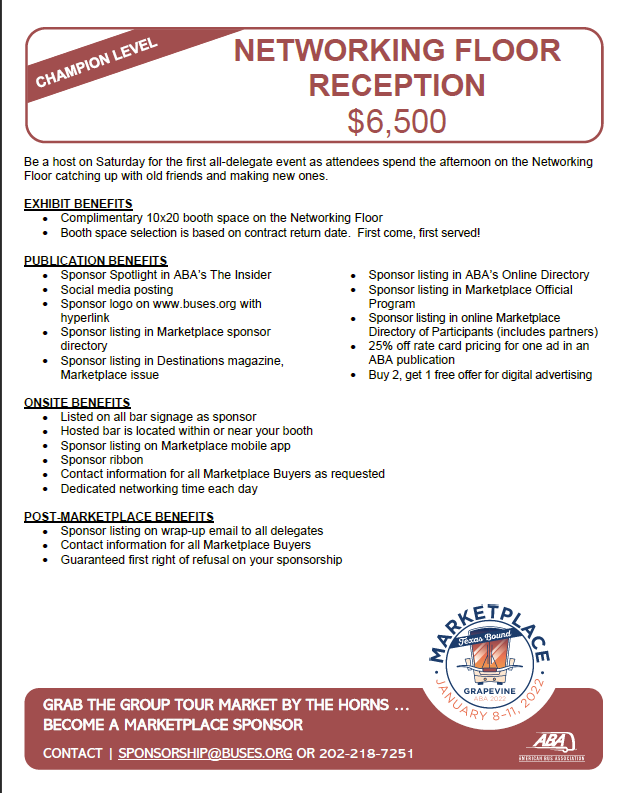 Eligibility
All ABA members are eligible to sponsor at ABA's Marketplace. Principal, Champion and Contributor Level Sponsors receive the benefit of exhibit space.
Sponsorship Sales Contact
Lynn Brewer
lbrewer@buses.org
202-218-7251
EXHIBIT SALES OPPORTUNITIES
ABA's Marketplace exhibitors can leverage the opportunity to launch new products, increase brand awareness or simply attract more qualified business prospects on Marketplace's Networking Floor.
Opportunities
ABA's Marketplace offers two exhibit opportunities:
Coach Exhibits
Full-week Exhibits on the Networking Floor
Eligibility
All current ABA associate (product and services members) are eligible to exhibit at ABA's Marketplace. Travel Industry members are not eligible for this opportunity.
Exhibit Sales Contact
Lynn Brewer
lbrewer@buses.org
202-218-7251